What is Lighting Control?  Well, with the move from halogen lighting to LED, there is a much larger focus on how to control natural and artificial light. Our technical team here at Lightmaster are trained to specify and program the correct control system for any job where it is required.
At Lightmaster we predominantly use three control systems. Philips Dynalite is our preferred as it's the most intuitive and we believe is the simplest to use. It also has lovely switches. Rako and Lutron have their own features and benefits. Our technical team will arrange a meeting to discuss the level of control needed before advising which system would be best in each job.
Scene Setting – One of the main elements of control is creating different scenes at the touch of a button. For example, there might be a circuit with four floor washers, another circuit with a central pendant and then 12 down lights spit between three more circuits. So, you can have an all on or all off button, one button on your switch might turn on the pendant and the floor washers for a low level, intimate scene, one button might turn on one set of down lights with the pendant for task lighting and then there can also be a dimming up and dimming down button. Depending on the system and the switch you choose, the possibilities here are quite literally endless.
Dimming – Dimming is one of the most complicated elements of any lighting system. It's all dependent on the type of dimming needed and the drivers selected. Our technical team will be able to go through this with your chosen installer – any Lightmaster project with a control system will be given a detailed wiring diagram to aid the installation.
Controlling Natural Light – In its simplest form, this is just opening and closing blinds or curtains. However, thanks to a company called Lutron, we can now integrate your window coverings into your lighting control system. We can even program your blinds to move with the angle of the sun to ensure the room is always in shade.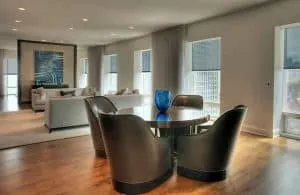 Switches – Gone are the days of plain white rocker switches. All three of our preferred control systems have their own stunning switches in various finishes, but there is another switch supplier we use called PLH. They are famous for their highly decorative switches made with materials such as leather, marble and even crystal.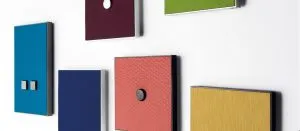 Automation – One of the many benefits of a fully integrated control system is the ability to automate your home. Our team can program your chosen system to turn lights on or off at specific times, control your heating, sound system and any security systems you may wish to include. We can even integrate your control system to home help devices such as the Amazon Echo and Google Home.