Professional LED specialists, Lightmaster Direct is a consultative lighting design and supply company for residential, historical and commercial projects. We are experts in both natural and artificial light, with specific expertise in LED. We're split into two different departments – Lightmaster Design for design work and Lightmaster Direct for product supply to both private and trade customers. Our full range of LED lighting is available to order from Lightmaster Direct and our relationships with suppliers all over the world mean there are literally millions of lighting options for your consideration. Say for example you wanted new LED fittings where your old halogen lamps had been – we can have a look at your current fittings, send over details on a few different options and you can order your fittings directly from us.
As lighting design is our specialty, we have a separate design team dedicated to creating beautiful and yet functional spaces based entirely on your requirements. Whether your tastes are modern or traditional, the Lightmaster team are able to offer unique lighting ranges from composite, discreet and decorative. We have solutions from the most exciting lighting ranges around the world which can be tailored into stunning lighting designs.  Have a look through our lighting gallery for more ideas.
Our base in the Cotswolds in Warwickshire has developed to the South West, Nottingham and London and in the last 5 years we have done projects as far north as the Isle as Skye, as well as international work in Cyprus, Bermuda and Mustique to name only a few.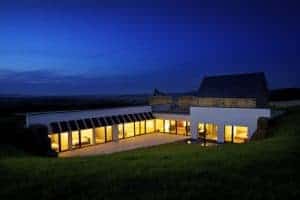 Light Emitting Diode – An LED is not a light bulb – it's a piece of electronics. The disadvantage of LED lighting also happens to be its advantage- The upfront cost for a product tends to be around 50-80% more expensive than your average lamp. However if you look up, your standard light bulb is anything between 40-80 Watts. A standard LED is anything between 2-10 Watts, not to mention the fact that an LED can last up to 75,000 hours (residentially, about 40 years) so you won't be changing bulbs every few months.
In recent years, the world has come to realise that everything we do needs to be more energy efficient. In 2018, manufacture of most Halogen bulbs was banned in the EU, meaning LED is the best way to go. And seeing as we've been at the forefront of LED innovation since 1998, Lightmaster is an excellent place to discover this relatively new technology.  Why not speak to us today as we are leading andprofessional LED specialists based in the UK.